Post by Nitaidas on Feb 9, 2020 14:28:33 GMT -6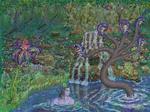 Truth to power may seem like some fantastic platitude, but I think we have to be practical. There is little point in storming the ramparts of the IGM institution with siege engines and catapults. Some will continue to stay behind its walls and moats full of alligators, because they find safety in that from the world of 'karmis', and others will find their way out somehow. I don't see critical thinking as some act of bravery, quite frankly. And that is really all that is required to reject apasiddhanta and leave any institution that fosters it. Nitai led the rest of us out of IGM with the torch of knowledge either directly or indirectly, however, so we are indebted to him for that and not being shy about sharing his findings.
Thanks for your kind words Minaketan dasji. The truth is that I was pulled out of ignorance, at least ignorance of the true history of IGM, by Dr Kapoor. When I was head pujari at the Krsna-Balaram Temple I used to go visit him at his Radharamana Temple apartment while everyone else in the K-B temple took their siestas. One afternoon out of the blue he told me the story of Bhaktisiddhanta and his fake initiation by Gaurakisora Das Babaji. It blew my mind. I was in shock for weeks. I came back day after day and asked him question after question. He told me the story of Ananta Vasudeva and his last address to the assembled sannyasis and bhaktas of the GM in Delhi in which he told them all that they may as well all go home and get married because they are all leading lives of lies. He told me of Ananta Vasudeva's escape and hiding out in Vrndavan and his eventual reappearance as Puridas Mahasaya and his leadership of the mysterious Chippi Galli group. Nilamadhava dasji suggested that the rumors of his suicide were spread by his well-wishers to protect him. This may well have been the case. Later Srivatsa Goswami filled in the story by telling of how his father took Puridas in and protected him. Dr Kapoor also told me about his own discovery of his true guru in the person of Sri Gauranga Das Babaji whose ashrama is just a few doors down from the Krsna-Balarama Temple. He and his wife were re-initiated, or perhaps more truthfully initiated for the first time, by Gauranga Das Babaji. I asked Kapoor if he would initiate me into the tradition, but he declined. Instead, he sent me to Tinkudi Baba who in his view was the leading siddha baba in Vraja at the time. That is how I eventually found my way out of ISKCON. Kapoor's advice to me was to get genuine diksa from one of the authentic lines and stay in ISKCON. Some day I would become an initiator in ISKCON and I would have the real empowered mantras to pass on. He felt that was the best way to drag ISKCON out of the ditch and on to the authentic path of Mahaprabhu. It took a lot of courage for Kapoor to pull me aside and tell me all of this. He was a friend of Bhaktivedanta's and could have suffered tremendously from his ire and the craziness of BV's disciples. Anyway, it was the grace of Mahaprabhu and especially, I think, of Nityananda Prabhu. As pujari I felt specially close to Balarama at the Krsna-Balarama Temple. I even named my daughter Jahnavi.
Well, these are all things you have all probably heard before. I suppose it does not hurt to repeat them.
No one has taken up my challenge concerning the identity of Radhika and her name. Kanupriya Goswami seems to suggest that sakti-tattva do not have the quality of being identical with their names (in his
Nama-cintamani
). That is a trait that is only true of saktimat-tattva. But, if saktimat and sakti are themselves non-different, then should not sakti-tattva also not be non-different for their names? What is the siddhanta here?