Post by Nitaidas on Jul 22, 2019 13:14:27 GMT -6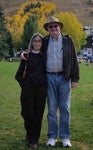 Are the evidences to that? Can you see more progress outside the IMG in a tangible way? I have not met any one in person outside IMG except Gadadhar Pran, Jagadananda Pundit and communicated with some vaishanvas in Radha Kunda and can see the sense of purity in them but I cannot see any verifiable proof of greater advancement than in some cases in IGM. Or maybe it is better to ask first, what do you mean by advancement?
Greetings Everyone,
Sorry for my longer than expected absence from this forum. My family has been visiting us in our new house in Colorado and it goes without saying that they have used up all of my time. I have not been able to concentrate on any of my projects since we got here. They are about to start heading to their respective homes and the quiet of our majestic surroundings will gradually return.
I am kind of fascinated by this post by Vidyasundar which I just noticed today. So far in my argument, I have been echoing scripture which is unequivocal about the effects of Vaisnava or Sadhu aparadha on the power of the holy name. The ubiquity of Vaisnava aparadha in the works of Bhaktivedanta, and the other major writers (Sridhara, Narayana, and their countless parrots) is a matter public record. It can easily be confirmed. One would think that sensable members of the spiritual descendants of these so-called acaryas would try to hide their teachers' calumnies, but the opposite is true. They wear their offenses like badges of honor.
Vidyasundar asks a legitimate question. What evidence is there for the claim that those who have received legitimate initiation in one of the authentic lineages (Gadadhara Pandita, Narottama Das, Nityananda Prabhu, Advaitacarya, and Gopal Bhatta) have advanced while those without a legitimate connection to Sri Caitanya Mahaprabhu, i.e. the members of IGM, have not advanced. There are plenty of examples of siddhas from the previous generation of traditional CV: Gauranga Das Baba (Nitai-gaura Radhe Shyam), Ramdas Baba (same), Manohar Das Baba (I forget which lineage he is in, Advaita Prabhu?), my Baba (Tinkudi Goswami, Nityananda-paribar), Krsnacaran das Baba (teacher of Pandit Anantadas Baba, Nityananda lineage), Haridas Sastri (Gadadhar lineage), Rashbihari Goswami(Gopal Bhatta) and numerous others about whom Haridas Das has written in his works and Dr Kapoor in his works (Braj ke bhaktas, etc). As far as our generation is concerned, it is much harder to tell. We are a disparate group. We've left IGM at different times and some of us have never been corrupted by IGM. In short, it is hard to tell who is advanced and who is not. My gurubhai Jagadish would have a better sense of who might have progressed furthest along that way. Moreover, those who are really advanced do mot wish to call attention to themselves. They certainly shun titles like "His Holiness .." or "His Divine Grace ..." There are many cases of siddhas living in Vraja who live alone in isolated kutirs or caves who throw rocks at anyone who comes near. These sorts are serious bhajananandis and treasure their solitude. The common theme among actual members of the tradition is that they avoid praise, worship, and even notice by others. The most elevated and realized of CV members cannot be recognized by others unless they are equally realized. Nevertheless, there are some signs of a person's predominating inner feelings. Rupa has given the eleven stages of advancement in the BRS. The most important of which are bhava and preman, the final two. Anartha-nirvrtti, which is number 3 [correction: number 4, bhajana-kriya is number 3], should be the point where aparadha along with other regressive habits end. Anyway, bhava and preman are really the signs of true accomplishment. Bhava means Krsna-rati and preman means bhakti-rasa. With these two come the sattvika-vibhavas and thus it is possible for non-advanced bhaktas to recognize advanced bhaktas sometimes. However, the sattvikas originated in the Natya-sastra where they are recommended for actors to imitate in order to fool the audience into thinking that their feelings were authentic. In other words, they can be and were originally meant to be faked. Alas! There is no good way of distinguishing the real advanced bhaktas and from their fake imitators!
Thus, we have to rely on scripture according to which no one advances to higher levels without initiation.
But I am curious. Vidyasundar implies that there are bhaktas in IGM twho are advanced. I would like to know who they are and what indications there are that they are advanced.
I seriously doubt that there are any and that there ever will be. For them it is good business, just as it was for Bhaktivedanta. They get free meals and a good place to live. Become a sannyasi and you become fat and everyone bows down to you. You get put in charge of vast resources. It is a grand scam. All you need to do is spout platitudes and wow the bhaktas.
With proper initiation and the grace of a real guru, there is a chance one can make advancement on the path. Without initiation the chances are slim. It can happen, but generally that occurs by coming into contact with a powerful, advanced bhakta who communicates bhakti to one's heart. It is a lot like catching a disease. That is the power of sanga. Just as someone with a disease can communicate it to others through contact or closeness with others, so bhakti can be communicated to others. The disease of bhakti is strengthened and fortified by more sanga and eventually perfected by the grace of the guru. If at the beginning one doesn't have a guru, by sheltering with the holy name, one will come to complete the process.
I will write more on this later.