Post by Nitaidas on May 30, 2011 11:45:51 GMT -6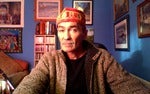 Janameyajaya said,
When the high souled Kesava and Arjuna after slaying their enemies repaired to the assembly rooms, what conversation, O regenerate one, took place between them?
Vaisampayana said,
The son of Prtha, having recovered his own kingdom, joyously spent his time, without doing anything else, in the company of Krsna, his heart filled with delight, in that palace of celestial beauty. One day, those two listlessly proceeded to a particular part of the palace that looked, O king, like a veritable portion of Heaven. Themselves filled with delight, they were then surrounded by their relatives and attendents. Pandu's son, Arjuna, filled with joy in the company of Krsna, surveyed that delightful mansion, and then addressed his companion, saying, ' O mighty armed one, thy greatness became known to me upon the approach of the battle. O son of Devaki, thy form also, as the lord of the universe, then became known to me! What thy holy self said unto me at that time, O Kesava, through affection, has all been forgotten by me, O chief of men, in consequence of the fickleness of my mind. Repeatedly, however, have I been curious on the subject of those truths. Thou again, O Madhava, wilt repair to Dvaraka soon.'
Vaisampayana continued,
Thus addressed by him, Krsna of mighty energy, that foremost of speakers, embraced Phalguna and replied to him as follows.
Vasudeva said,
I made thee listen to truths that are regarded as mysteries. I imparted to thee truths that are eternal. Verily, I discoursed to thee on religion in its true form and on all the eternal religions. It is extreemly disagreeable to me to learn that thou didst not, from folly, recieve what I imparted. The recollection of all that I told thee on that occasion will not come to me now. Without doubt, O son of Pandu, thou art destitute of faith and thy understanding is not good. It is impossible for me, O Dhananjaya, to repeat in detail all that I said on that occasion.........
( Kisari Mohan Ganguli )
Krsna then proceeds to recount what a certain brahmana had narrated on the theme of Brahaman, Sankhya etc. etc.
This is fascinating, madanmohanji. I had forgotten about the Anugita. I wonder if there is a place for reflection on this passage in the introduction of the Caleb Gita.