Post by Nityānanda dāsa on Oct 5, 2021 6:59:59 GMT -6
Radhe Radhe!
For anyone who is interested, this is a course on the Upanishads offered by Sri Adwaita Prabhu Das (Edwin Bryant, PhD), disciple of Sri Haridas Shastriji. Below is his invitation...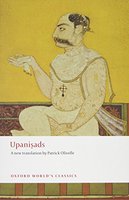 There has been an inundation of emails expressing interest in an Upanisad svadhyaya. It is very gratifying to see such interest in these texts but so many emails are pouring in that I can't possibly answer them all, so kindly forgive me (I really do try to answer all my emails normally). So no need to write any more expressing interest - we are on for the course. Most of the emails with questions that i opened seem to be requesting info so hopefully the info below will satisfy most of the questions. Also, all this info is now on the website <edwinbryant.org>, under the 'Yoga Philosophy Course Videos and Workshop' link in the header, and after opening that link, within the second sub-link 'Study of Yoga Texts (Svadhyaya)...'.
The workshop will run for 6 consecutive Fridays, 6-8.00 PM EST, Oct 22nd & 29th; Nov 5th, 12th, 19th & 26th
For those of you not attending live due to time differences or other constraints, the course will be uploaded onto that website every week. However, it will not remain there permanently (as some studios are requesting live Upanisad courses for their members and would prefer not to have it already available). However, please note, due to Covid, I have been uploading all our Rutgers courses - each one 26 sessions of 1 hr 20 minutes or so - for you all, which are permanently available there. There must be 8 courses up there. These include the courses ongoing this semester, one on Krishna, another on Isvara in Indian Philosophy, and Sanskrit). These are all freely available/by donation
The link for the course is on the website, and is this one:
rutgers.zoom.us/my/edbryant?pwd=NENRRVhkZVJzNzI0SmhIbEEwM1ZDUT09
The name for leaving a PayPal donation is just my email <edbryant@religion.rutgers.edu> or you can click on this link:
www.paypal.com/paypalme/SriRadhe108
As you know, half the donations go to my charity in India. Anyone wishing to see the receipt of last year's donation can contact me privately (Once I retire, I will be able to give all the money in charity, but right now i have a daughter to put through college and so keep half!).
Yes, you are all welcome to forward the info to your students and friends. However have them sign the mailing list so they can get info on future svadhyayas, or if I need to make some change in a date during a svadhyaya. The link for that is, again, on the website and is this:
docs.google.com/forms/d/e/1FAIpQLSdhiyoYoyDnvfiPIj0Fd2HfvCS4EQJ1boykV51mRuX7Lreluw/viewform
. That list is only used for svadhyaya purposes and so you will only hear from me two or three times a year to be informed of a proposed course.
There seems to be great interest in the Vedanta Sutra course, so I am thinking to leave that for another workshop aimed at yogis such that we can honor that text in its own right. Perhaps we can do a 4 or 6 part series in Feb when the weather outside seems bleak and cold (at least in NJ). At that time, we can engage the two commentaries noted in the previous emails which are on different sides of the dualist/non-dualist debate for that.
Please obtain Olivelle's translation of the Upanisads. Make sure you get the one with only the English, which is only $9 on Amazon. link below, and as low as $1.99 for used copies on other book vending sites (if you get the one which also has the Sanskrit on each page, it will cost you $70 or more, although that is great for those of you seriously learning Sanskrit).
www.amazon.com/Upanisads-Worlds-Classics-Patrick-Olivelle/dp/0192822926/ref=sr_1_5?dchild=1&keywords=olivelle+upanisads+with+sanskrit&qid=1633116268&s=books&sr=1-5
If I missed anything REALLY important, you can email me, but please respect the fact that I am a full time academic and have to fit all this in on the side. Email is now taking up an inordinate amount of time, even as we are blessed to be in a sangha and to share these teachings together.
Really looking forward to studying together.
Edwin